Did you know?
The Panthers and Rams have only met three times in the past on the grid iron. After a CAAC realignment following the 2017 season, the Panthers were moved to the large school division of the CAAC, the Blue Division.
The Panthers have won each of the games with the 2020 game Covid-ed out.
Panther Puzzle
Bryce Kurncz has had a pair of exceptional games the last two weeks, rushing for 211 yards against Catholic Central and 207 yards against East Lansing. He only had 48 total last season. Yep, that is all.
The Puzzle:
Who was the last Panther to have 200 yards rushing in two different games.
A. Chad Daggy
B. Nathaniel Deak
C. Ben Heinritz
D. Tyler Holtz
E. No one.
Answer: Nathanial Deak. In 2009, he had 241 against St. Johns and 2010 he had 220 against Charlotte. Each of the others mentioned had one game of 200 yards or more rushing. .

As you navigate the site, you will become familiar with the links and such. All of the answers can be found someplace on this web site. Except this week.

16 and counting...


Sports Page Links
Panthers Playing in College
(Denotes senior season at DeWitt)
Noah Koenigshnect (2017) - Central Michigan
Northwood University
Tyler Nordmann (2021) - Myrtle Beach Collegiate - South Carolina
Other Panther links of interest.
2022 DeWitt Panther Football Week Five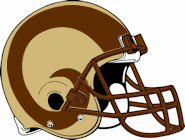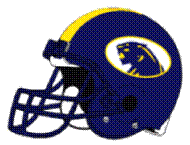 Holt Rams 8 vs DeWitt Panthers 38
at Memorial Stadium, DeWitt
Friday, September 23, 7:00pm
Helmet images from MichiganHelmetProject.com
DeWitt, MI (09-23-2022): There is no place like home.
The DeWitt Panthers defeated the Holt Rams 38-8 Friday night. It was induction night for the Hall of Fame Class of 2022 in ceremonies at half time.
After two tough losses at Detroit Catholic Central in overtime and at East Lansing, the Panthers showed a bit of a hangover in the first half. The offense sputtered a bit with an interception, a missed field goal on a bad snap and lost a fumble. Brandon Soltis had two field goals of 30 and 28 yards. Holt led 8-6 at the half on a three yard pass from Seneca Moore to JJ More. That 80 yard drive accounted for 80% of their entire offense for the night.
The Panther defense helped "tilt the field" for the offense and the offense ran downhill the second half. The offense caught fire by scoring on five of six possessions with the last possession running out the clock. The defense held the Rams to a three and out to start the second half and DeWitt drove 55 yards in nine plays with Bryce Kurncz taking it in from a yard out. To say the Ram defense kept an eye or two on Kurncz is a bit of an understatement. The PAT pass from Aspen Keyes to Abram Larner was perfectly thrown and caught. DeWitt took the lead for good, 14-6, at the 7:09 mark of the third quarter. Soltis pitching-wedge of a kick off landed perfectly about the Ram 35 yard line and Robert Lillie hustled down and jumped on the ball to give the Panthers even more lift. The short drive was ended when Landen Taber blasted in from one yard out for the TD and the two point conversion was no good. 20-8 DeWitt. The next drive for DeWitt started at the Ram 38 after a sweet 28 yard punt return by Kurncz. A holding penalty put DeWitt back to the 45 and then an L&L TD. Elliott Larner threw a pass to Abram Larner who ran it in for the TD with 2:57 to play in the third quarter. The PAT rush was no good. A 22-0 third quarter gave DeWitt a 28-8 lead heading into the fourth quarter. The Panther defense held Holt to -16 yards of offense in the third quarter while DeWitt had 169 yards of offense.
The Panthers had the ball and scored their last TD of the game at the 11:46 mark on a 10 yard pass from Elliott Larner to Kurncz. Kurncz and the defender went up together but the veteran Kurncz came down with the ball. Soltis kicked the extra point for a 35-8 lead for DeWitt. Soltis added one more field goal with 7:34 to play to round out the scoring.
Matthew Nehf led the Panther defense with eight tackles and 2.5 sacks. Robert Lillie had six tackles and the fumble recovery. A healthy Landon Taber is back and put pressure on Ram QB Moore all through the second half. He had five takcles and half a sack while Jack Schieding had four tackles and a sack. Elliott Larner had four tackles. The Rams Moore was 7 of 15 passing for 87 yards. Moore also led the Rams in rushing with 18 yards. Dyelan Arnold led the Ram receivers with 46 yards on three receptions.
Larner led the Panther QB trio with 6 of 7 passing for 103 yards, Keys 3 of 6 for 18 yards and Kurncz 1 of two. DeWitt had 130 yards passing with Abram Larner's two receptions for 55 yards, Jensen Ridley had three for 41 yards, Kurncz thee for 23 yards. Kurncz led DeWitt with 76 yards in 11 carries, Blake Haller 54 yards on 7 carries, DeWitt rushed for 264 yards and had 396 yards of total offense.
Up next for DeWitt next Friday evening will be the Grand Ledge Comets at Community Stadium in Grand Ledge. The Comets are 2-1 in the CAAC Blue and 4-1 overall.
---
Congratulations to the Panther Freshman team for their first win of the season, a big one over Holt 38-7.
The Junior Varsity traveled to Mona Shores and lost to the Sailors 32-12.
---
Capital Area Activities Conference Blue Division

School

Overall

Conf

Week Five

Week Six

East Lansing

4 - 1

2 - 0

lost to Grand Blanc 28-21

at Everett

Grand Ledge

4 - 1

2 - 1

beat Everett 34-6

DeWitt

Waverly

4 - 1

2 - 1

beat Okemos 41-6

Holt

DeWitt

3 - 2

1 - 1

Beat Holt 38-8

at Grand Ledge

Holt

2 - 3

2 - 1

lost to DeWitt 38-8

at Waverly

Everett

2 - 3

1 - 1

lost to Grand Ledge 34-6

East Lansing

Okemos

0 - 5

0 - 3

lost to Waverly 41-6

at Clare

Other teams we follow (coached by former Panther players/coaches)

Charlevoix
Coached by Jim Alger

5 - 0

3 - 0

beat Tawas 45-0

at Boyne City

Morrice
Coached by Kendall Crockett

5 - 0

5 - 0

beat Breckenridge 42-20

at Merrill

Whitehall
Coached by Tony Sigmon

5 - 0

2 - 0

beat Manistee 56-0

at Muskegon Oakridge (5-0)
Shots of the Week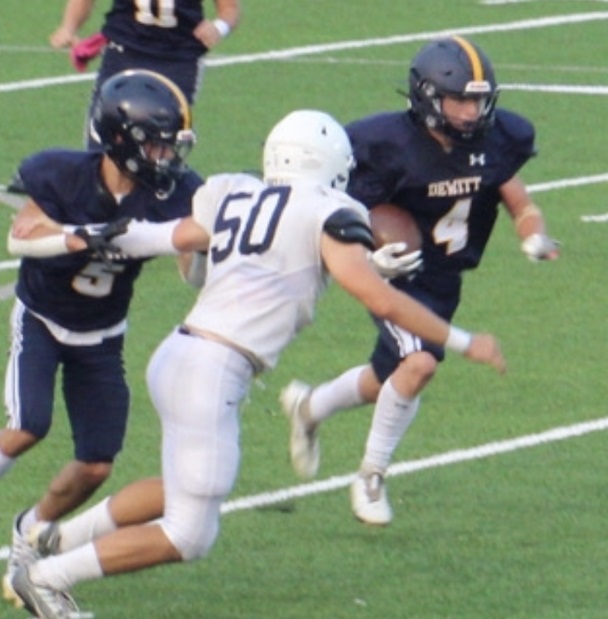 Trenden Bayshore gobbles up big yardage.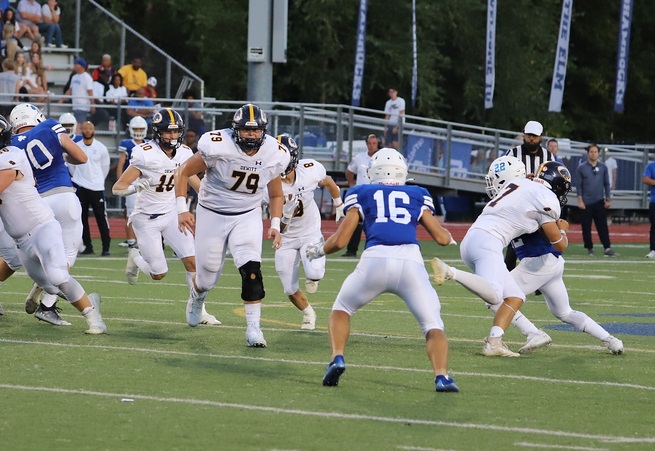 Uh-oh #16. No where to hide. Here comes Broden.
Click on images to enlarge.