Last Update: 2-05-2014 (Watch for monthly updates during the off season)
DeWitt, MI (2-5-2014): Coach Rob Zimmerman has proudly announced that two players will sign letters of intent to play college football next year from the 2013 team. Kicker Cameron West will be a preferred walk on at Northern Michigan University. Christoper Bukoski is expected to sign with Eastern Michigan University. Tyler Madar has narrowed his choices to two schools.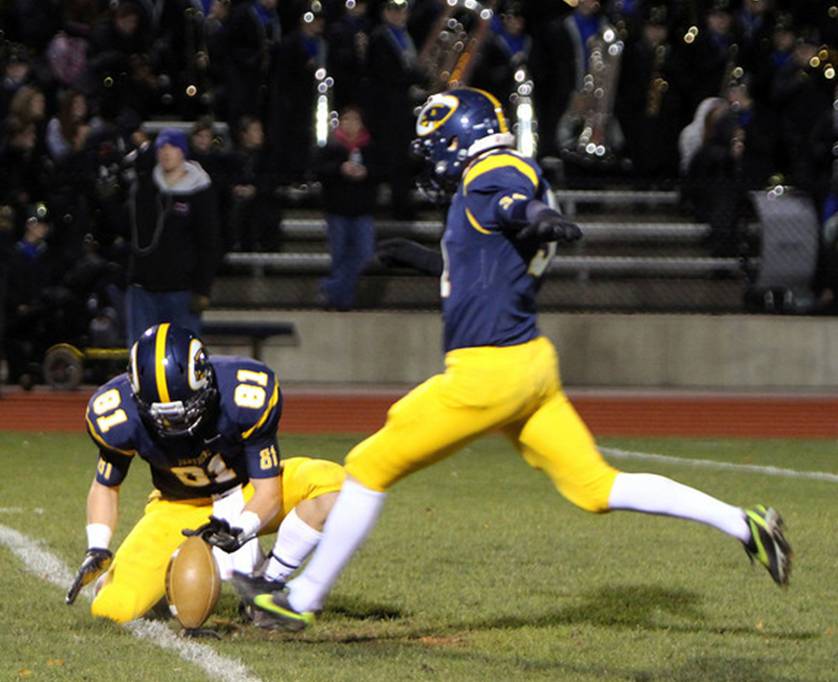 Cameron West has been the place kicker for the Panthers for the last three years. A consistent and accurate kicker is extremely valuable to a team and Zimmerman has had that luxury the past three years. West has etched himself into the DeWitt Football record book as one of the top kickers of all time. His 94% extra points made (153 of 163 with 4 blocked) is among the tops in the state as well as the sheer number of attempts and those made. Of course, it certainly helps to be on such a prolific scoring team as DeWitt. And, as the Panthers scored, a kickoff followed. Cameron had 209 kickoffs for a whopping 10,794 yards (6.13 miles!) and 71 touchbacks. His average kickoff landed at the eight yard line despite kicking often with a nagging hip injury. He also made six field goals with the longest being 41 yards against Ionia as a game winner, 40 against Mt. Pleasant and 38 yards against Lansing Everett. And, of course against Linden in the 2013 District Final when his 22 yard field goal tied the game in the last minute and was perfect on all six extra points, one in each overtime. In the 2013 Division 3 finals, all five of Cameron's kickoffs sailed deep into the end zone. Congratulations Cameron and good luck at Northern Michigan.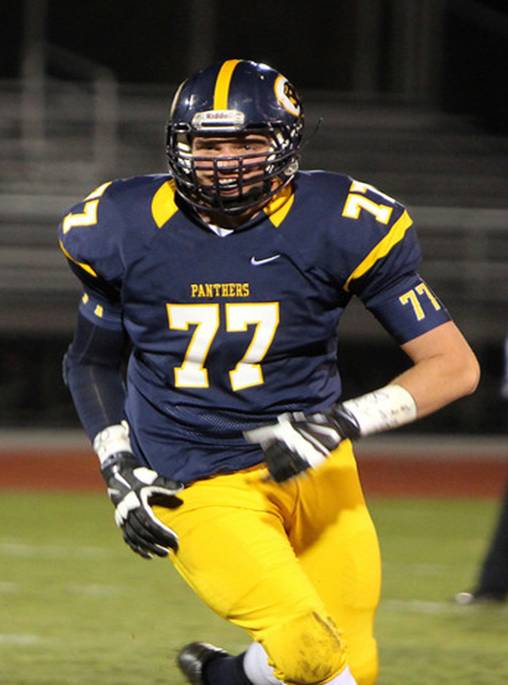 Christopher Bukoski will be signing with the Eastern Michigan Eagles. The 6'6" 275 pound offensive tackle has anchored the Panther line that has been one of the top offenses in the state and one of the most complex high school offenses in Zimmerman's potent attack. It is very unusual for such a big guy in high school to be as quick footed as Bukoski is, but he has worked hard to make himself the player he is today. Despite being named to the Detroit Free Press All-State team, the Detroit News All-State team and Lansing State Journal Dream Team, perhaps his biggest award was being mention by Coach Zimmerman as one of best two or three linemen he has ever coached. Unlike the "skilled" position players that have many statistics to compare themselves, linemen prove themselves by the success of their team. The past two years, DeWitt has played 27 games with trips to the State Semi-Finals and Finals in 2012 and 2013 respectively. Congratulations, Christopher and good luck at Eastern Michigan University.
Tyler Madar has whittled his decision down to two schools. Madar, the 6' 225 pound defensive end anchored one of the better defenses since Coach Zimmerman took over the program in 1999. Tyler earned all area and all conference recognition for his play this year. He registered 49 tackles and a pair of sacks, not bad for a scheme that where defensive linemen are supposed to engage the offensive linemen and let the linebackers make the tackles. He was instrumental in a defense that pitched four shutouts and had five other games of a single touchdown. Madar earned special praise for his play against Zeeland West huge tight end during the Division 3 final game limiting the running game to that side. Good luck on your decision, Tyler. When he makes his decision, we will update you right away.

East Lansing, MI (1-28-2014): The Michigan High School Athletic Association announced today that DeWitt's Athletic Director Teri Reyburn has been honored by receiving its 27th Women in Sports Leadership Award. The presentation will be this Sunday at the annual WISL banquet at the Crowne Plaza Lansing West. MHSAA Second Half editor Geoff Kimmerly has written and posted an excellent article on Teri. Please click here to see the article. Congratulations, Teri, for a very deserving reward for a very deserving person from the entire Panther family and DeWittFootball.org.

DeWitt, MI (1-28-2014): The DeWitt Panthers 2014 schedule has been released and it will be an exciting year. Fowlerville will be dropped from the schedule and league with DeWitt for the first time in 25 years. Ionia will also be dropped from the league this year in a restructuring of the CAAC divisions. Mason will replace Fowlerville and Waverly will replace Ionia. Mt. Pleasant and DeWitt had a two year contract which has expired and Trinity Catholic was a one year contract.
The 2014 schedule is: at Linden, at Kingsford, at Mason, Waverly home, Haslett home, at St. Johns, Owosso home, at Portland and Fruitport home.

DeWitt, MI (1-24-2014): DeWitt Football coach Rob Zimmerman has announced that Christopher Bukoski, DeWitt's outstanding offensive tackle has made a verbal commitment to attend and play football at Eastern Michigan University. Christopher has been offered a "full ride" scholarship with the Eagles. The 6'6", 275 pound Bukoski received first team Detroit Free Press All-State honors, Detroit News All-State honors, Lansing State Journal Dream Team honors and CAAC Red Division All-League honors. Congratulations Chris from DeWittFootball.org.

DeWitt, MI (1-6-2014): The snow and cold could not stop the 2013 Football banquet held this year at Royal Scot Banquet hall. The DeWitt Football records have been updated. You can view them by clicking here.

2013 Detroit Lions 7-on-7 Tournament Champs
2013 Notre Dame Passing Camp National Champs
2013 CAAC Red Division Champs
2013 MHSAA Division III District Champs
2013 MHSAA Division III Regional Champs
2013 MHSAA Division III State Semi-Finalist
2013 MHSAA Divsion III State Finalist

Lansing, MI (09-16-2013): The CAAC announced the alignment for the 2014 season. DeWitt will be losing Fowlerville from the conference since the days when DeWitt changed from the Capital Area Circuit to the Ingham County League in 1988. Next season, DeWitt will be in a league with Haslett, St. Johns, Owosso and will add Mason and Waverly. Ionia and Fowlerville will be changing to other leagues.

South Bend, IN (6-22-2013): The DeWitt Panther 7-on-7 football team won the prestigious University of Notre Dame High School football 7-on-7 tournament. Over 70 schools from across the nation participated. DeWitt played teams from Ohio, Indiana, Minnesota, an All-Star team from Indiana, the hands down favorite from Arizona and a multi-state champion from Illinois. The final game was played in the stadium on the hallowed ground of Knute Rockne, Notre Dame Stadium in front of Touchdown Jesus. Coach Zimmerman said it was one of the most memorable events in his football career. Last year, the Panthers finished 8th. Congratulations, Panthers.

Detroit, MI (6-20-2013): The DeWitt Panther 7-on-7 football team won the Detroit Lions high school 7-on-7 tournament at Ford Field. The Panthers went undefeated in the double-elimination tournament defeating Chippewa Valley in the finals. Congratulations, Panthers.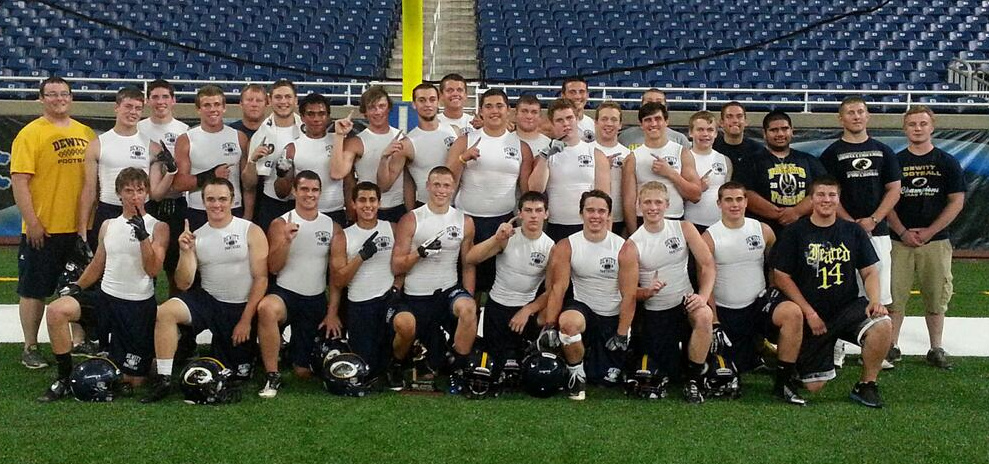 Eight Conference Championships in a row!
Inquiries and comments can be sent to info@DeWittFootball.org