DeWitt Touchdown Club

DeWitt Football Official Picture Site
Last Update: 01-18-2015
Please enjoy the pictures taken by Molly Brown the past season and other seasons at the DeWitt Football Official Picture Site.
The Panther record book has been updated with 2014 records and All-State page is also updated as well as 2014 Individual Recognition.

The Panthers were fortunate to have several players with All-State recogniation this past fall. The first featured at this time is lineman Josh Hanna.
| | |
| --- | --- |
| Josh was named to the Associated Press First Team All-State as a defensive lineman for 2014. Josh was also named to the Detroit Free Press First Team All-State, the Detroit News Honorable Mention, Lansing State Journal Dream Team and CAAC Red Division All-League. Hanna was the anchor in the middle of the Panther defensive line that only yielded 129 rushing yards per game. Teams only scored more than one touchdown against the Panther defense in four of eleven games. Hanna had 51 tackles (21 solo, 28 assists) and two sacks in a primarily run league. He had two fumble recoveries and caused a fumble and patted away a couple of passes on the rush up the middle. His career stats match up against anyone in Panther history for defensive linemen; 52 solo tackles and 72 assists plus 4.5 sacks for 129 total tackles, many times being double and triple teamed. Josh also had two caused fumbles, recovered two, batted away three passes and blocked a kick. Hanna's Coach Rob Zimmerman praised him as one of the "finest defensive linemen that has played for me". | |

Nine Conference Championships in a row!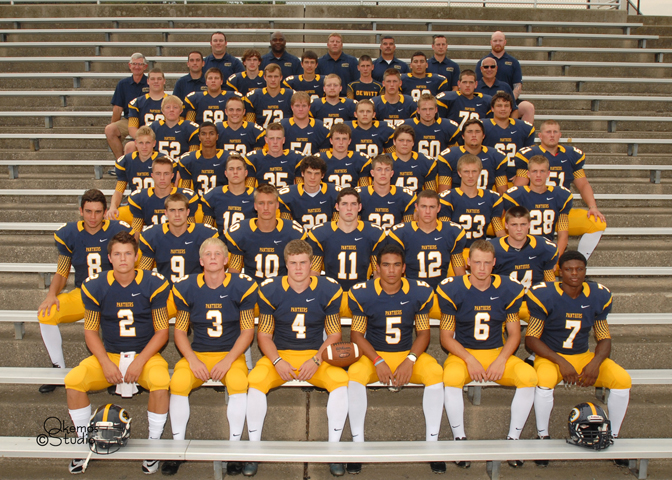 Please send inquiries and comments to info@DeWittFootball.org