DeWitt, MI (8-30-2015): The DeWitt Panthers will host the Kingsford Flivvers in a Thursday afternoon game. Both teams are 1-0 on the year, with Kingsford defeating Green Bay area power West De Pere Phantoms 30-14 and the Panthers defeating Linden 38-14. The Freshman game will be Friday morning at 10a followed by the Junior Varsity game. It is scheduled to be a warm one, so make sure to grab a cold drink from the concession stand and maybe come a little early to enjoy lunch.
Last year, DeWitt made the 645 mile, seven hour trip to Kingsford. Those that made the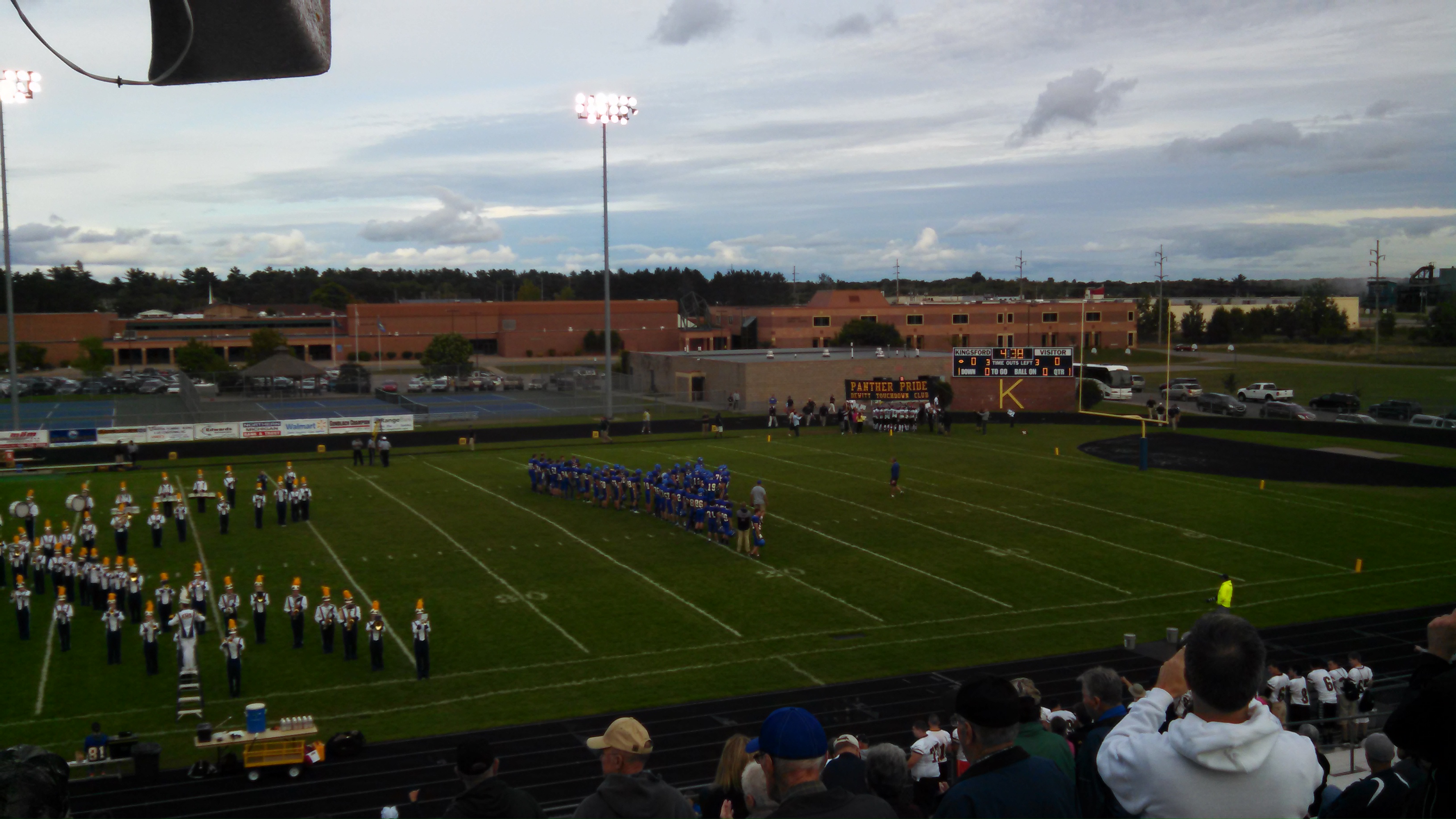 trip on Friday hit a bad storm in northern Michigan that made its way to mid-Michigan by the evening and cancelled many games in the Lansing-Grand Rapids area. The Panther faithful who made the trip were treated to a special sight, hundreds and hundreds of farm tractors crossing the Mackinaw Bridge in an annual antique tractor crossing. Another treat was the concession stand, many have said the best they have been to.
Last year's Varsity game on Friday night was played in ideal weather, light breeze and in the 60s. The Panthers came away with a 41-21 victory. The Panthers scored the first three times they had the ball before Kingsford began to get their offense on track mid-way through the second quarter behind quarterback Joe Hofer.
Kingsford is coached by Chris Hofer. Hofer has quite a wide variety of offensive sets he uses, from spread receivers to the single wing formation used for many years by Fritz Chrysler at Michigan. Chris's father is Ken Hofer, who coached for 41 years at Menominee and ran the single wing. Ken is an assistant now of Chris. Last week in the Flivver victory over West De Pere, the offense racked up nearly 500 yards and were able to shut down the Phantom offense. They will try to control the game by keeping the ball from the Panthers with long drives.
Kingsford is in the Great Northern UP Conference, which includes Escanaba, Gladstone, Menominee and Marquette and will also play several teams from Wisconsin. Last year was an uncharacteristic season for the Flivvers with a 4-5 record. Their fans were every excited to see the Panthers fresh from their Ford Field appearance in 2013. Flivver fans are very knowledgeable and passionate about their program.
Last year, the Freshmen and Junior Varsity games were quite the games. The Freshmen teams tied at 26 (no overtime for Freshmen games) and the Kingsford/DeWitt JV teams put on quite an offensive show and tied at 38. Yep, both games were ties.