Many players have had the opportunity to move on from high school football to the college game from DeWitt High School. Recently, DeWittFootball.org had the opportunity to catch up with Ryan Anderson. Ryan was a receiver for the DeWitt 2011 and 2012 teams. Ryan was accepted to play football for Saginaw Valley State University, following in the steps of several other Panthers, including Caleb Higbie and Jason Fleet. Ryan played at SVSU for two seasons and now plays for Olivet College.
One question we had were his thoughts on the difference with college play than high school…
Being apart of a college team is a very humbling experience. It is an honor to be able to play at the next level and I go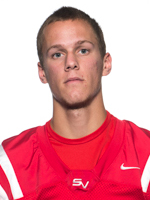 into every single day knowing that. I try not to take it for granted, and at this level, you have to go all in everyday or it can mean you won't be playing.
My first few practices as a college football player were very eye-opening experiences. I realized that the things I did in high school, and that worked tremendously, would no longer work in college. The thing about college football that I learned very quickly, was that of the following. Every college player was a high school star. You now have a team full of high school stars and it is up to you to become effective at the college level. I learned quickly that if I wanted to be effective at the next level, I had to put in a hundred times more work into my craft than I did in high school.
As answered above, yes, college football is a lot different than high school. The game is faster, more physical, more tenacious, more mentally taxing, and much more time consuming. Although, it still is the game of football that I have been playing since I was a little boy. I think sometimes at this level, I tend to forget that, but I always make myself remember it is the game that I love and have trained so hard for so many years for. Perhaps the biggest difference between high school football and college football is the fact that you now have a new family. In high school, I took the field every Friday with my brothers that I grew up with, that is what is hardest about leaving high school football and entering the land of college football. But, you come to build a new brotherhood with your new family.
My biggest impression about college football was how much time you put into it. With the walk-thrus, the weight lifting, the conditionings, the practices, the games, the film sessions, the team/position meetings, it begins to add up. On top of that, there is community service duties, and if you want to be great, you will put in the extra time on your own to study film, master your craft, and better yourself mentally, and physically on your own time.
Ryan was an outstanding receiver for the Panthers. Of all the outstanding receivers that have played on Friday nights at Memorial Stadium, Ryan's career statistics ranks amongst the top in may categories: Touchdowns receiving career-16 (4th), Receptions career-101(2nd), Receiving yards career-1,482 (3rd).
Looking back at his years in high school and playing at DeWitt and how it shaped and prepared him for his college experience...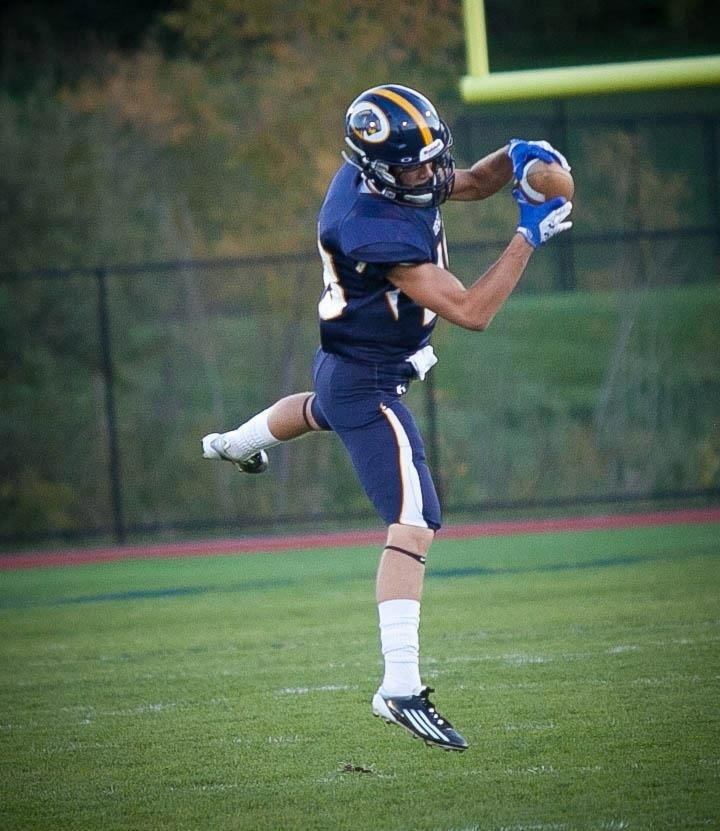 Playing football at DeWitt is one of the biggest blessings of my entire life. DeWitt football is beyond most other high school programs. The way we practice, and play, and prepare all year long for the season really helped set me apart from some of the other freshman in my class who didn't have the same sort of expected excellence in their high school programs. DeWitt football is something that will never be forgotten by anybody involved. I know that some of my fondest memories in my entire life came from playing football at DeWitt. Whether it was on the field under the lights, or something else to do with DeWitt football. I am certain, that anybody who has played DeWitt football can honestly say, that they will never forget the memories it gave them and the lessons they learned. It helped shape me into the man I am today, not only on the field, but in my work ethic in all aspects of my life, and how I attack anything I am doing with the upmost effort.
Ryan had a terrific season his senior year. He was sure handed and ran great routes and was excellent at getting in the perfect position to catch a ball in traffic. A talented young sophomore quarterback named Jacob Johnson went to Ryan often and the team was able to achieve a spot in the state semi-finals. Ryan's numbers were impressive that season: Catches in a game-12 (3rd), Touchdowns caught in a game-3 (1st), Touchdowns in a season-16 (4th), Receiving yards in a season-1,221, (3rd), Receptions in a season-80 (1st). His three touchdown catches in a game was in the six overtime marathon against Linden. All three of his touchdown catches came in the overtimes. Against Grand Rapids Christian in the 2011 State Semi-Final game, he hauled in 12 recepitions.
Not only is Ryan on the list of top receivers for DeWitt, but his 40.8 punting average is just a tick behind top Panther punter Jason Bunce. He had two 62 yard boomers in his career.
Ryan recalled that the Linden game was one of his most memorable games…
I have many fond game memories from my career at DeWitt so it is difficult to decipher which one is my most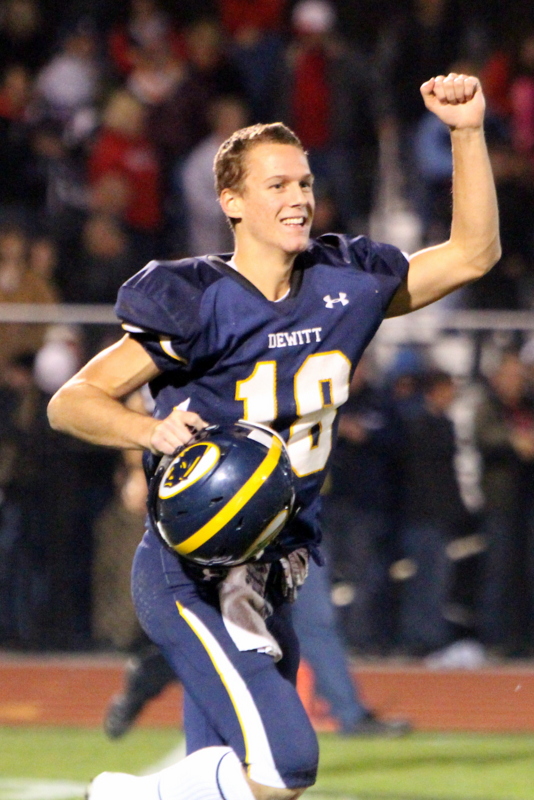 fondest memory. But, if I had to pick one, I would say it was the 6 Overtime District Final Game against #4 Ranked Linden, at Linden. To this day, I remember the score (45-44) and it is the only game I can vividly remember exactly what happened, and when it happened, and how it happened. This game was an exact resemblance of our senior season and how our motto "Refuse to lose" went hand-in-hand with how we played. Week 9 against Fruitport we won by 1 I believe in the closing seconds, by a missed field goal. The first round of playoffs we beat Lapeer West in O.T. The second round we beat Linden in 6 O.T.'s. And the third round we beat St. John's by 1. These are games and memories that I will never forget, and it resembles how we played as a team. With the mentality that we weren't going to lose, no matter how hard it was, or how long the game lasted, or what we had to do to win. It is something that I miss about DeWitt football, the community support not only in these games, but in every game, and taking the field, with my brothers every Friday night in front of thousands of people.
Speaking of those Friday nights, DeWitt typically draws many fans and has built some great rivalries, which really draws the intensity from the players. These games always create special memories for the players and so many in the community love to be associated with DeWitt football and have many long time fans.
Ryan adds…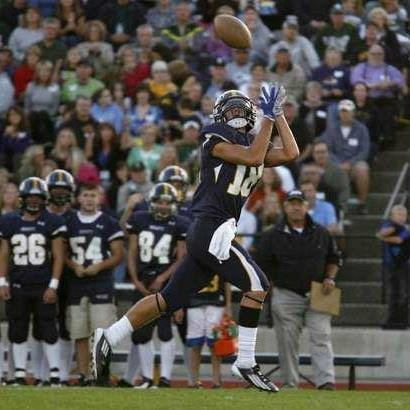 That is another thing, no program around has better community support than that of DeWitt. The amount of love the community showed us as a team, and still shows the teams today, was something that I for one, will never forget. It didn't go un-noticed and when I was out there on the field, I wasn't just playing for my family and for my brothers next to me, but I was playing for the entire community and the ones who wore the jersey before me. I guess for me, the best way to describe DeWitt football is with the word "Tradition." It may not always be evident, when playing in DeWitt. But, one thing is for sure, when your time at DeWitt is up, and you look back, you realize how important the memories DeWitt football are to you, and how blessed you were to play for such a supportive community and such a successful program and coach, Rob Zimmerman.
My most fond non-game memory would honestly just be the relationships I built with not only the administrators and coaches, but fans of DeWitt who would come up to me in stores and congratulate me on games and accomplishments. DeWitt as a whole, opened up so many doors to me that I never could have dreamed of when I was younger, and I owe a lot of my success to the doors that DeWitt allowed me to open. I would like to thank anybody who played a role in that, my family, all of my coaches, principles, directors, statisticians and the board.
Playing sports in high school is more than Xs and Os on the chalkboards and running sprints. It is also about mentoring and establishing lasting relationships…
Individually, I want to thank head football coach Rob Zimmerman, who to this day, I stay in contact with. This is a man who I have always looked up to and he is somebody of great stature. He is an incredible coach, and a great mentor, and there isn't a day that passes that I don't think of him and thank him for playing a huge role in my successes, not only as a former player of his, but as a person. Secondly, I want to thank athletic director Teri Reyburn. These two people in my mind, are not thanked enough for all that they do, and quite honestly, they can never be thanked enough. Mrs. Reyburn is somebody that I genuinely miss seeing every day. She does more as an athletic director than anyone else out there. Her constant support is tremendous and she is one of the most genuine people I've ever met. As a community, we don't really realize how much she does for all sports in DeWitt, and she has help made DeWitt athletics well-known throughout the entire state. So, as far as my most-memorable non-game experience goes, it would be the relationships I've been lucky enough to build with the people of DeWitt.
Another one of my most fond non-game memories was the relationship I was able to build with our athletic trainer Steve Jenkins, who I still stay in contact with. He is an incredible person who made it possible for me to stay healthy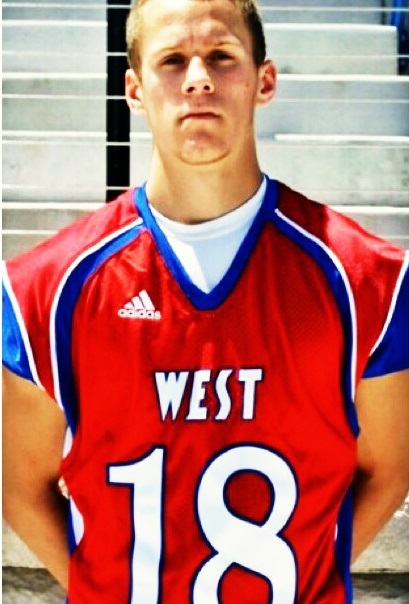 and remain on the field/court. He also is a very selfless person. He used to be up at the high school at 5 a.m. following my senior season on Saturday mornings to tape me to make sure I was able to perform well at recruiting camps that I was going to. He did this numerous times, and all after the birth of his beloved child, Palmer too. He doesn't get the credit he deserves and I just want to say thank you to him as well. He is the best athletic trainer around and I thank him to this day for all that he does.
Ryan honored DeWitt by being selected and playing in the Michigan High School Football Coaches Association East-West All-Star game the summer of 2013. DeWittFootball.org would like to thank Ryan for his time and hope you enjoyed his recollection of the experience with DeWitt Football. Please click here and enjoy the Ryan's high school highlights. Good luck to Ryan at Olivet College and as Bob Hope sang "Thanks for the Memories".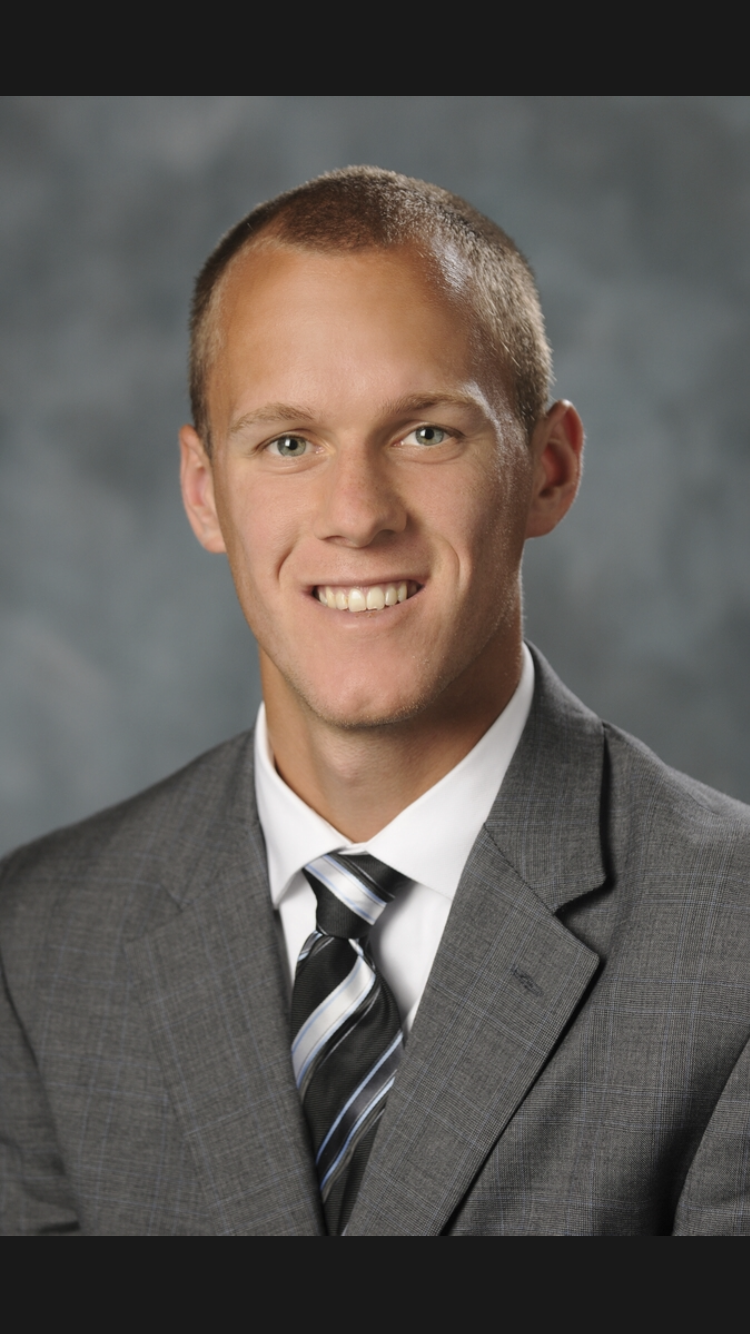 DeWitt, MI (1-11-2018): DeWittFootball.org and the DeWitt Panther Coaching staff would like to congratulate DeWitt's Ryan Anderson on being named to All-Big-10 First Team as a punter for the 2017 football season by the media as well as the coaches. Ryan punts for Rutgers in the Big-10 East Division and named the Eddleman-Fields Punter of the year. Not just a football player, Ryan also excels in the class room and earned Academic All-American First-Team status this season. Anderson was also a two time All-MIAA Conference, two time All-American as the punter for Olivet College and Academic All-American. His 46.2 yards per punt average set a record for Division III and was sixth in the country for all divisions in 2016.
This season, Ryan averaged 44.4 yards per punt, best in the Big-10 and 12th nationally.
Ryan's senior season at DeWitt in 2012, he punted 52 times for a 39.7 average with 14 of the punts landing inside the 20 yard line. He was also a pretty darn fair receiver with 80 receptions for 1,221 yards and 16 touchdowns.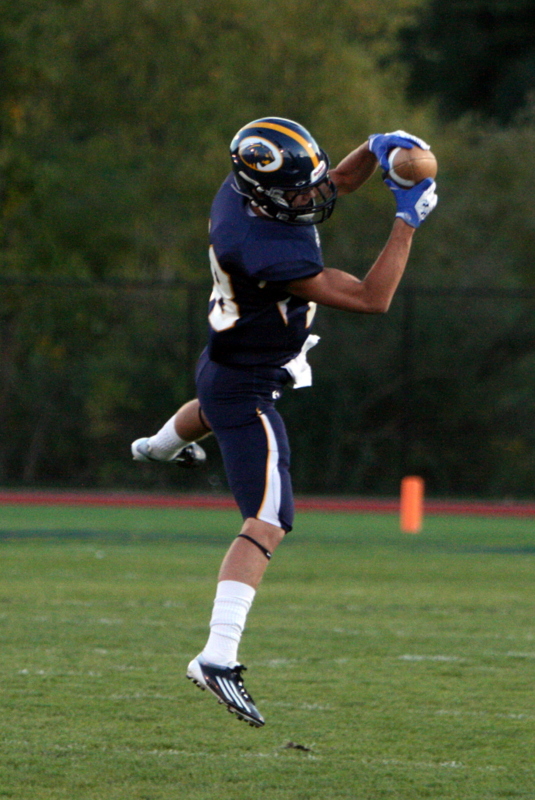 What is Ryan up to now? He is working at a gym in Arizona, lifting six days a week and working with punting coach and five time NFL Pro-Bowl punter Rich Camarillo. There are combines coming in February where NFL scouts will watch Ryan and other specialists. Of course, he is hoping to catch a scout's eye and sign with an NFL team.
DeWittFootball.org caught up with a busy Ryan Anderson recently and he shared some thoughts with us.
How did the decision come to move from Olivet in Division III to Division I Rutgers?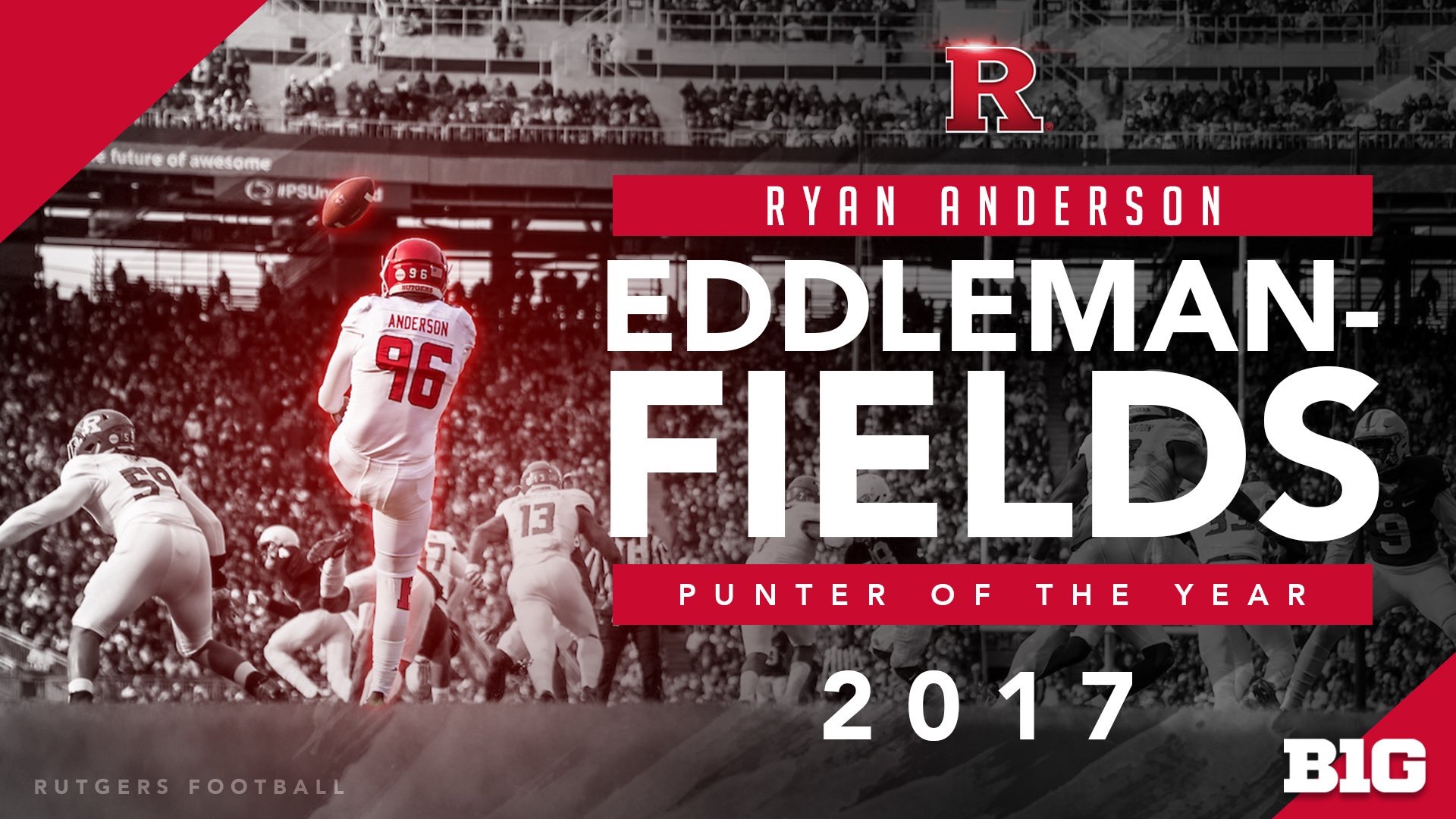 Growing up in Michigan, I always watched Big Ten football. Naturally, that was always a goal of mine to fulfill and finishing up my Senior year in the classroom at Olivet, I realized I could potentially make that dream a reality. It was extremely humbling to be able to make the transition that I did and fulfill a lifelong dream of mine. I was able to go perform on the biggest state and gain further exposure which was my reasoning for leaving Olivet and transferring to Rutgers for my last season.
What was it like to progress from high school on Friday nights to Saturdays in the MIAA and the Big-10?
There were a lot of differences between playing at all three levels. Naturally, playing in the Big Ten is a different animal, but at the end of the day, I had a job to do at all three schools. That did not change no matter where I was or how big the game was. I really enjoyed being able to make the jump from D3 to D1 and be able to play at the highest level on some of college football's biggest stages. It was extremely rewarding to see all of the work I have put in pay off in that regard.
Speaking of big stages, were there any stadiums or games that may have stuck in your memory?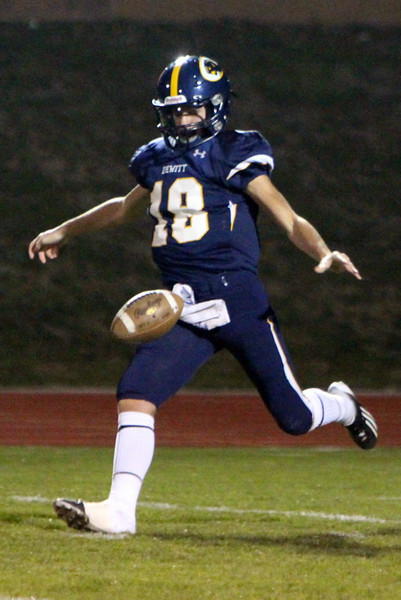 Growing up in Michigan, I would have to say playing at Michigan Stadium was the most humbling/fulfilling stadium I played in. However, the best atmosphere game that I played was at Nebraska. Being able to play at Penn State is also something I will never forget and of course playing at home at Rutgers is something that I will forever carry with me.
What is next for DeWitt's Ryan Anderson?
I am currently living in Arizona for the next couple of months to train for the NFL. These next five months, I will be training as hard as I can and will do everything I can to make the NFL. I will have my pro day in March, some specialists combines in February and other workouts throughout the months. Come next fall, I hope to be on an NFL team somewhere.
Well, Ryan, you have a lot of folks cheering for you here in DeWitt. Good luck and keep us updated.
Meanwhile, enjoy this video from Ryan's high school season.
"DeWitt Forever".