Recently DeWittFootball.org had the opportunity to catch up with Paul Jorgensen. Paul was one of the most talented players to play for DeWitt and was an integral part of the success of the program from 2007 through 2009. A two way lineman for the Panthers, he played the "blind side" left tackle on offense and end on defense. A three year starter for Coach Rob Zimmerman and offensive line coach Bob Acre, he was not your typical "big guy" you see in high school. Coach Acre noted that Paul "has nearly perfect blocking techniques and the best feet of any linemen I coached".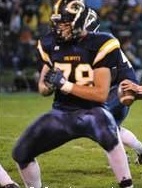 As a sophomore starting on the varsity, we wondered if he was nervous at all starting beside upperclassmen Joe Vertalka, Joe Ashi and Alex McNeeley and protecting all-state quarterback Dan VanDruemel.
My first Varsity game was an exciting experience. I grew up idolizing the guys that played on Friday nights and this was first chance to play on Varsity. I always had a sense of nervousness before any game I played in. I don't think it was worries that I wasn't prepared or ready to go, but it was important to have the first play under my belt to settle into the game.
And play he did. In this day of wide open offenses and quarterbacks and running backs with gaudy passing and rushing stats, Paul was selected as the most valuable player his senior year by his teammates. His senior season, with Paul anchoring a terrific line that included James Jackson, Frank Furnari, and Jamison Betz protecting all-state QB Jimmy Williams and making holes for DeWitt career rushing leader Nathaniel Deak, the Panthers scored a school record of 597 points.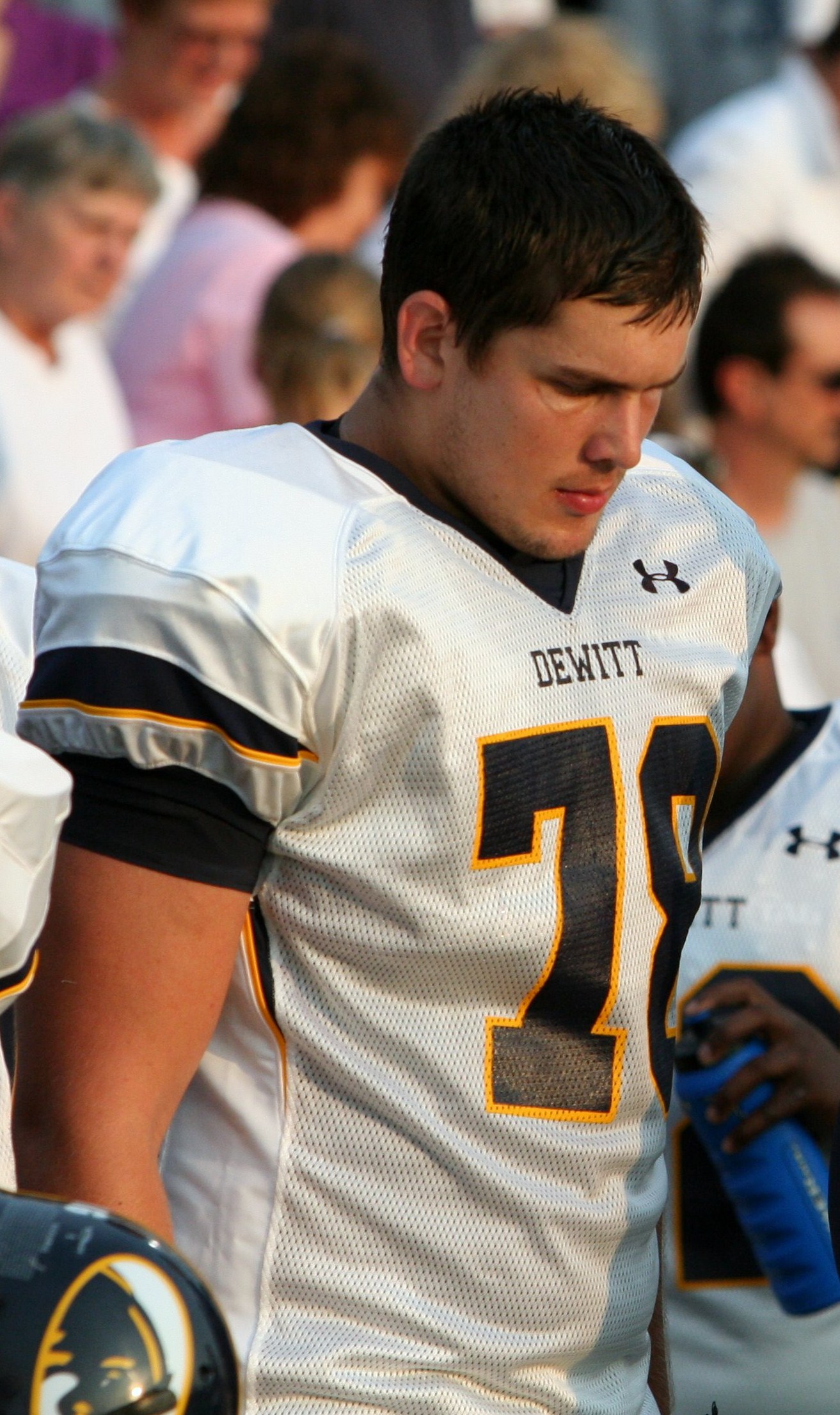 Paul played a total of 35 high school games including 8 playoff games. His size is the first thing a college coach will look for and then his ability to play and a lot of schools liked what they saw. He was one of the most recruited players ever from DeWitt. He noted…
The recruiting process is even crazier now than it was for me. I started getting letters in the mail and some informal recruiting after my sophomore season, but it did not really pick up until I finished my junior season. The whole recruiting process is a learning experience from the beginning. There are a lot of rules around when a coach can contact you and by what means. I primarily had email exchanges, phone calls, and in-person visits with coaches during the process. I started the recruiting process with the goal of getting into a school where I could play high-level football and leave with a great degree. I grew up a Michigan State fan, but I ultimately found the right fit for me at Northwestern. I really liked the coaching staff at Northwestern and the proximity to Chicago was a big plus. I had a lot of help during the process from Coach Zimmerman and my family. The recruiting process can get very overwhelming at times, but both coach and my family helped to keep everything in perspective and make sure I had all of the information I needed to make the right decision.
The game has changed over the past couple of decades, rather than showing up in early August and start practicing, it is now a year round activity. Weightlifting starts soon after the season is over and runs through the spring, summer 7-on-7 tournaments and camps take up quite a bit of time before the season even officially starts. Then yet, there is college...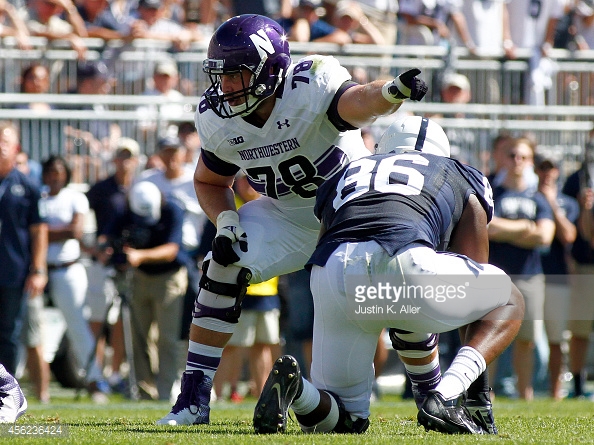 College football is much different from high school, in my opinion. The team is composed of players from across the country and from all different backgrounds. The game is much faster and has a steeper learning curve. I remember the first few playbook meetings I had in college and remember being overwhelmed with the complexity of the playbook. The responsibilities in college are greater than in high school as well. College football is an all-year requirement on top of a full-time education. I had to learn to time manage very quickly. I think the big similarity between the two levels, however, is the friendships developed in the locker room. I have life-long friends from high school and college that I would not be as close with if I did not play football alongside them.
Were there any ups and downs during your career?
I think every career is going to have a series of ups and downs, but I think that is part of the game of college football. I redshirted my first year at Northwestern and ended up getting hurt in practice, but did not really know the full extent of the injury until a year and a half later. I struggled to play well the next two years and was disappointed that I did not play as well as I knew that I could. I ended up having surgery and starting my final two years, playing in some big games in front of sold-out crowds. In the end it came down to the determination I had to accomplish my personal goals by the end of my career. I was a member of some great teams in Northwestern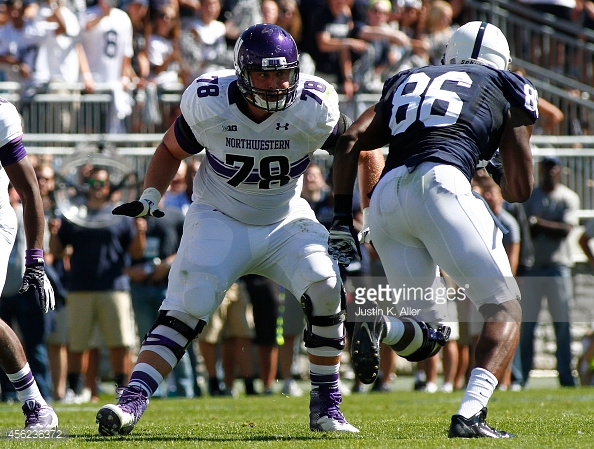 football history and am extremely proud to have played for the university, but I know that my greatest accomplishment from my career is accepting my undergraduate degree in 2014. The ultimate goal of my recruiting process was to attend an academic institution and play football at a high-level, which I feel I accomplished during my career.
I wanted to share my two favorite memories from my playing career. The first was winning the Gator Bowl over Mississippi State in January 2013. The win broke a 60+ year bowl-winless streak at Northwestern and I was very fortunate to play a role on the team that finally broke through and won a bowl game. The other memory I will have forever is beating Notre Dame on the road in South Bend last season. There is a lot of college football history and tradition at Notre Dame and it was a great feeling to come out victorious.
Those are some pretty great memories, thanks for sharing. Paul did forget one item, his touchdown.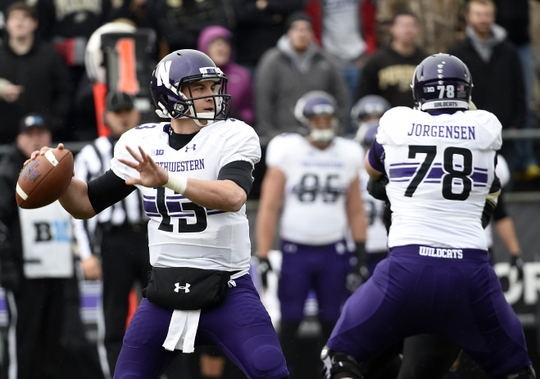 The coaches, how did you find the coaches at Northwestern?
I first met Coach Fitz (Pat Fitzgerald, head coach) during my first visit to Northwestern following my junior season. I remember the intensity that he talked with and the way he conducted himself. The tough thing about the recruiting process is to find the coaches that are genuinely presenting themselves and not putting on a show. The entire Northwestern staff was exactly as they presented themselves. I am very lucky to have my entire career played under one head coach and one position coach. Both Coach Fitz and Coach Cushing were consistent and positive coaches on and off the field and always were available to discuss any issues that arose in any aspect of life. I cannot thank them enough for my development as a player and as a man during the five years I spent at Northwestern.
What are you up to now, life after football?
I am currently working as a Data Analyst in Boston and just finished my Masters of Science degree in Predictive Analytics in December 2015. I cannot get enough college football on the weekends and closely watch the Wildcats every Saturday. I stay pretty busy during the week, but love to spend Saturdays on the couch watching football all day. The transition out of football is new and I think I am still adjusting, but I am excited to become a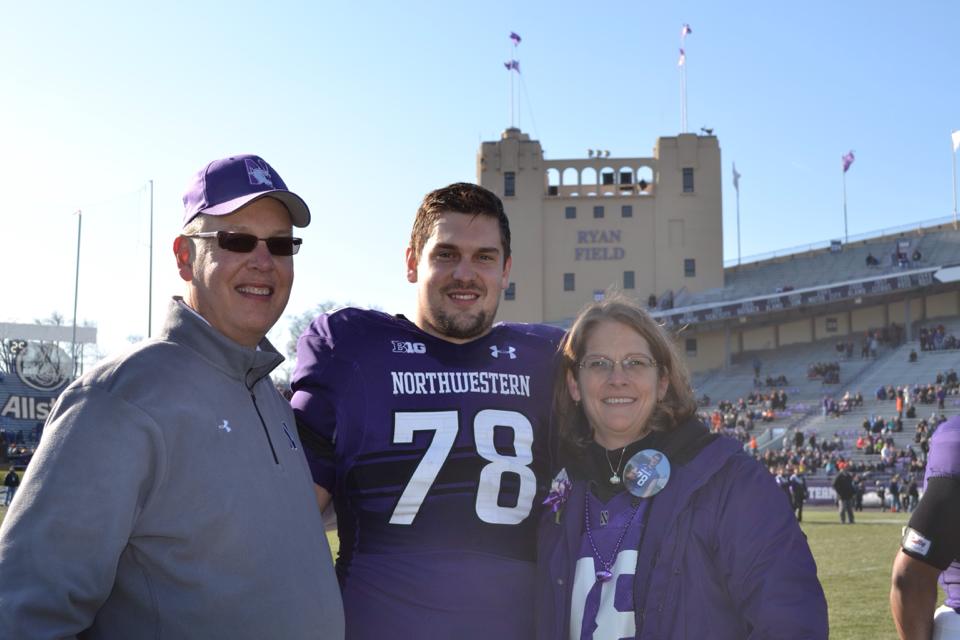 huge fan for many years to come.
Paul also was honored to play in the Michigan High School Football Coaches Association East-West All-Star football game following the 2009 season in the summer of 2010, along with West Head Coach Rob Zimmerman. His two biggest fans were mom and dad, Jon and Claire. Jon, still roams the sideline at DeWitt football games as part of the chain gang.
We would like to thank Paul for taking the time to share his reflections and hope you enjoyed them. You can also read his Northwestern bio.
Tradition.
November 2015