Intense, says one former player.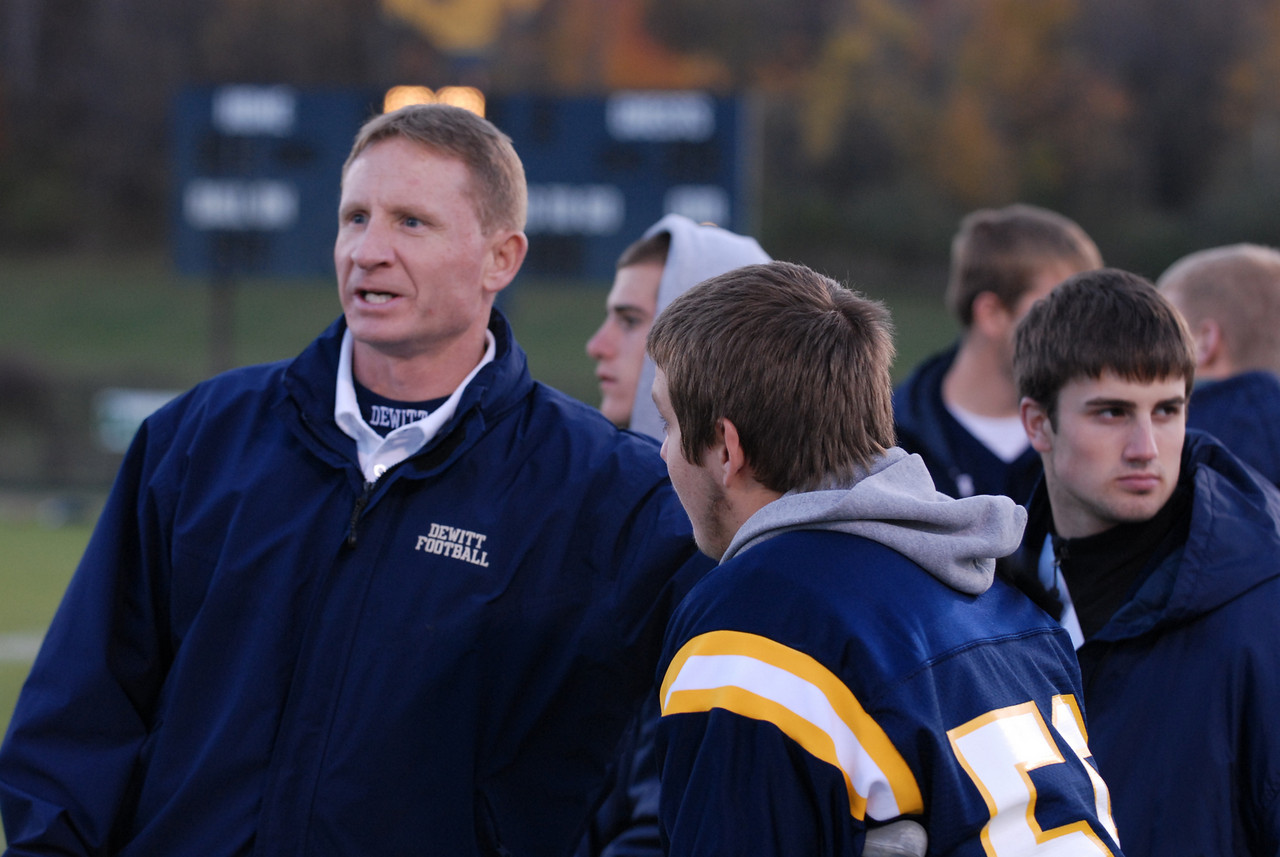 Dedicated, says another.
Focused, yet another.
Words that former player used to describe Coach Jim Alger. Usually Junior Varsity coaches are not well known and they don't usually hang around very long. Alger was dedicated. He loved sports and loved being around kids. And, there are some people in a community that share their passion and knowledge and for 25 years, Jim did just that.
Passionate says another.
Alger came to DeWitt in the early 1990s. Those in the area would always seem him coaching various sports in the community. Jim and his wife Carol retired from their jobs with the State of Michigan in 2016 and moved to Charlevoix, where Jim grew up. Not able to quench that passion for football, Jim is now the offensive coordinator at his alma matter, the Red Rayders. And, the Red Rayders went from 1-8 to 6-3 and made the playoffs, won the playoff game EVER and broke Charlevoix's all tiem record for points in a season in the process. They finished 7-4.
A winner. Loves to win from another former player.
Another former player said TAN... Tough as nails.
Recently, DeWittFootball.org was able to touch base with Jim and see what he is up to and to ask him about his experiences in DeWitt... (this took place in 2019)
Hi, Jim. How do you like retirement?
It took a bit of getting used to but I've stayed pretty busy and love my hometown and it's four seasons.
Do you and Carol travel quite a bit or just enjoying the beautiful Charlevoix area?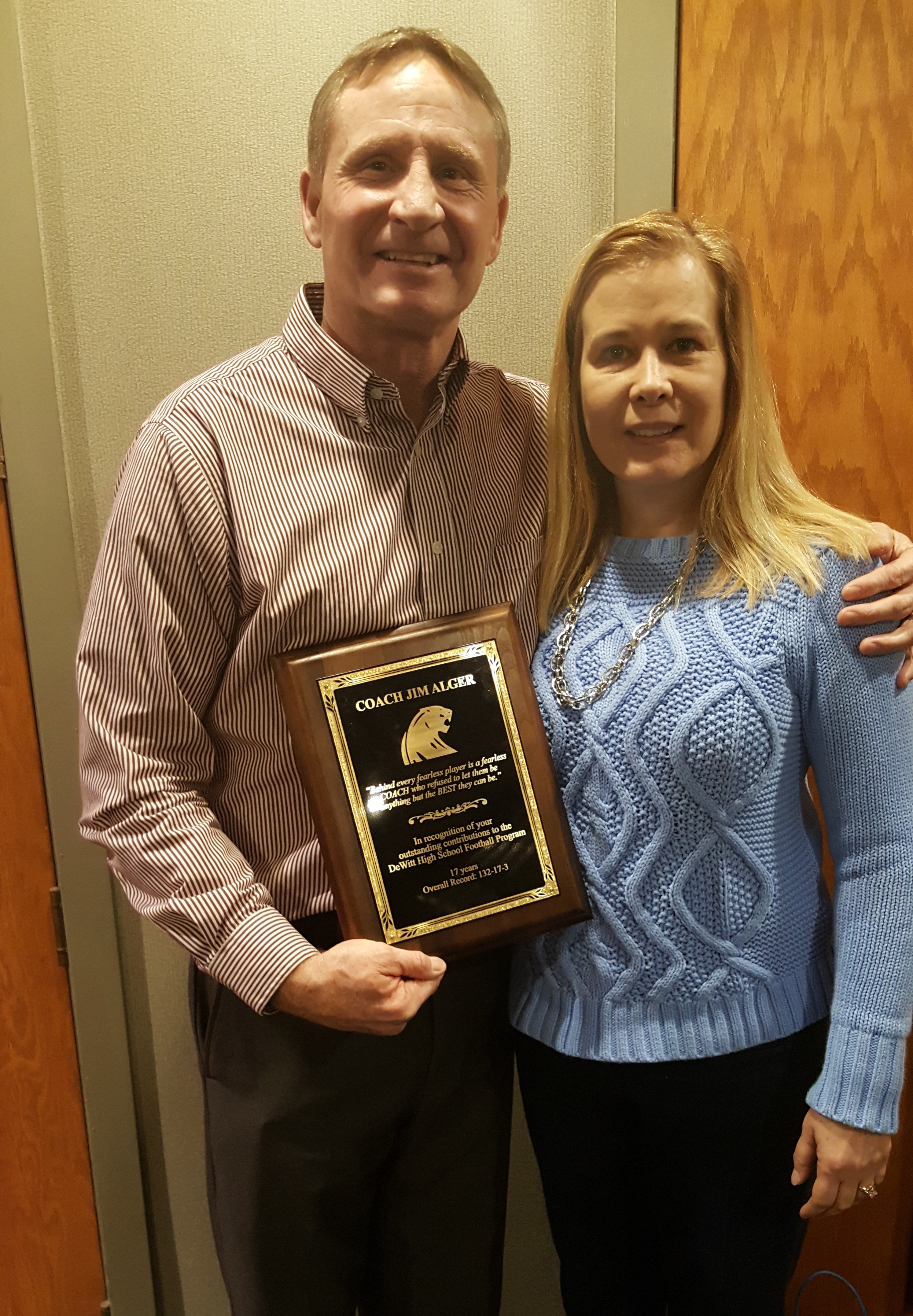 We've taken a few vacation trips (usually late winter/early spring) and locally enjoy boating, biking, playing pickle-ball, hiking, snow-shoeing, snowmobiling (just me) and visiting family. (Those that have seem Jim, looks like he could put the pads on and play now he is in such great shape.
Are you still running your business?
I still own my business and have a few things going in that regard.
Did you keep track of DeWitt last fall?
Last fall and every fall. I came to a few games last year and the year before. I look for online articles and occasionally text with Rob and a few of the other coaches. Rob kept me in the "HUDL" system, so I was able to watch our game films too, which was awesome as I had previously coached those guys on JV. Mostly well-wishes and things like that. DeWitt Football couldn't be in better hands than the program Rob has built there. I was proud, and fortunate, to be a part of it.
Another former player... Fun.
It was a year where you were not on the sideline coaching a football game. Did you get the itch? What was that like?
I was out 2 years before being asked to help Charlevoix out this year. The first year, I had helped the JV skilled guys with the off-season work in the gym so was in regular contact with Bill Grice as he took over the offense. He did a great job as you all know. For the varsity I reviewed film and occasionally shot Rob a few things that I saw...not that he probably already hadn't seen the same thing, but I think he was humoring me anyways. I was able to watch our game films too, which was awesome as I had previously coached those guys on JV.
I missed the kids most of all and the coaches too. I coached with so many great guys there.
You coached youth football, basketball, baseball and softball when kids were in the recreation programs?
Yes, I did. I truly enjoyed working with kids of all ages. It didn't matter the sport. Soccer, basketball, softball, baseball and football as I recall. It was just so much fun helping a kid become better than they thought they could be at something...anything. I believe that self-confidence is earned, not given thru empty, yet well-meaning compliments. (We always told our youngest son to stand still if our older son threw anything at him, he was that bad at throwing a baseball. He was on Jim's team and Jim took him aside and helped him with a lot of coordination and basics of baseball.)
Knows his s**t, says another former player.
Were you always a sports fan as a kid?
Mostly just the "major" sports. Football, basketball and baseball. We only got 3-4 channels and all you got to see was 1-2 games per week but I remember watching with my Dad. He would ask me after the play, "what did the safety do" or "did you see the blitz coming" and things like that. He knew his stuff. (That is right, in the "old days" before cable TV, three or four channels. And no remote control. Had to get up and change the channel.)
What sports did you play in junior high and high school? Any sports that you liked better than others or just whatever was in season?
I played Football, Basketball and ran Track my first 3 years, then played baseball in the summer. Charlevoix didn't have baseball until my senior year, so I dropped track and played baseball that year. I was just a pretty good quarterback and was lucky to play on some great teams in '76 and '77. Our basketball teams were successful and our baseball team won the conference championship the first year we had a team. Charlevoix was a blue collar town back then so we had a lot of tough kids and were pretty good in most sports. (Jim was also an execllent fast pitch softball player.)
Physical. Man did he coach you to be physical. We out physicaled most teams. Is that a word, physicaled? We were fearless.
Were your parents involved in the school and activities?
My parents were the best! There were 4 of us kids, all a year apart, and they never missed a game. My Dad used up most of his vacation time and Mom rescheduled work, but they were always there. They ran the sports boosters for, I think, like 17 years or something like that. My Dad also helped start an organized little league in Chx. I got stuck on most of their projects, building concession stands, mowing and lining ball fields, fund raising and I "volunteered" to umpire little league games when I was 13...one year after I had played. Thanks Dad...ha!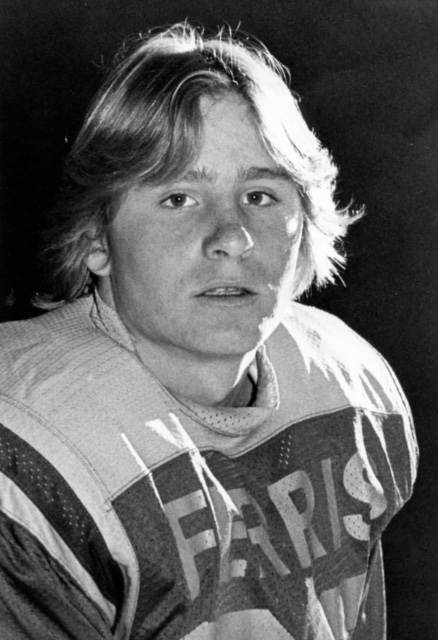 You played football at Ferris. What was that like?
Well, I practiced more than I played. FSU was more option than pass so it wasn't the greatest fit for me as a QB. I could run fairly well but not like the starter we had then. He wasn't a great passer but he could really run. So I got to play a lot on Monday nights. At that time, if you didn't play on Saturday, you could play in a sort of JV game on Monday nights usually against a D-3 school. It was fun and it satisfied my desire to compete. College football was a great "life" experience.
Demanded perfection every play, from another former player.
When did you start coaching football?
I started coaching in the Junior Panther program when Chad was in the 6th grade. (1997) That was his first year playing. Prior to that, he played travel soccer. Jay Morton was the defensive coach and I coached the offense. The Varsity coaches weren't really involved with the Junior program then but since DeWitt was running the wish-bone at that time, I wanted to run something similar that would prepare the kids for high school football. So I ran option from the wishbone, I and split backs. Chad's class was small in numbers but the kids who did play were tough and did whatever you asked them to do. The parents were very supportive as well. Coach Morton coached toughness and I coached Offense. That's about as clear a picture as I can paint. Our team lost 1 game in 3 years and the kids really bonded. Their 8th grade year, coach Morton was working for the Lions and arranged a visit to the Silverdome. When it came time for the kids to get off the field, they huddled on the 50 yard line and had some sort of meeting...while we were yelling at them to get off the field. Much later we found out that they had made a pact together to finish their careers there at the Silverdome...which they did in 2002. Sorry to be long-winded, but that's just a great story!
That is a great story. Each Panther team has a catch phrase to describe their team. In 8th grade, they asked themselves to Believe IT! It was pretty neat to see these wide eyes kids meet QB Scott Mitchell, receivers Herman Moore and Johnny Morton and lineman Robert Porcher and a pretty fair running back named Barry Sanders.
How did you get into the high school program? Was it hard coaching your son?
Rob interview me and I started coaching the winter of 1999-2000. That was Chad's sophomore class, a group I was very familiar with. The hardest year to coach my son was the first. To alleviate the issue of a Dad coaching, Rob would be making the quarterback substitutions from the booth. That helped a bunch.
Was it hard watching him as a varsity QB?
No, not at all. I wasn't in charge of the offense so Rob made all the decisions. I just tried to do my job from the booth. The only hard part was when he was injured in the Semi-Final game in 2002. Watching him play the State Title game the next week was very difficult.
Few people knew but Chad played the final game with a very painful separated left shoulder. A bruising runner, DeWitt lost his ability to run the ball and run the option and limited Zimmerman's choice of plays. Chad still set MHSAA finals records for attempts and completions.
Jim is great at reading defenses and passed that ability to Chad and other quarterbacks he coached. A knack... no, an ability he learned from watching games with his Dad as a boy.
Focused on tiny details to make a player and team better, yet another former player mentions.
Long time sportscaster Tim Staud, says of DeWitt that Zimmerman style of offense has made DeWitt "a quaterback happy" program. Working with the younger quarterbacks including All-State quarterbacks Tony Pulice, Chad Alger, Dan Van Druemel, Jimmy Williams, Caleb Higbie and Jacob Johnson is a role that Alger loved.
Rob is a brilliant offensive mind and we started out with the veer. And we just expanded it from there.
You had a couple of busy years coaching and to watch daughters Alyssa and Ashley play basketball. Alyssa set a state record for consecutive free throws made during the season at 32. Did you take time off?
I didn't really take any time off. Adam Nolan was coaching the defense on JV and wanted to learn how to call offense. So when Alyssa had a game on a Thursday night, Adam would call plays. I wasn't going to miss any of her games!
Another recalls "When we were JVs, we traveled to xxxxxx to play and Coach told us he wanted us to be ahead 40-0 when Coach Zimmerman arrives with the Varsity at half time. Man, could he motivate us. Yes, we were ahead 40-0 at half time."
You "retired" with a record of 132-17-3 over 17 years, conference record of 73-7-1 and averaged 42 points per game. Any games, seasons or players that may stick out in your mind?
Wow, that's quite the question! Too difficult to answer with so many great kids and coaches. I'll just throw out a few things for you but it will be very incomplete...
1) The first year, we played Haslett in a muddy, sloppy mess. We finally hit Adam Holland on a backside post, off boot action and beat Haslett 6-0. Anyone know what a backside post off boot action is?
2) I remember Jordan Dick working his tail off the entire off-season and then blowing a knee in game 1. I don't know why, maybe because of all the work he had put into it, but that one broke my heart.
3) My last game in 2016, we had a boy who's Mom was going thru cancer treatments and the families all stepped up to bring dinners to them and did many other things to care for the family. Without the players knowing, I bought long "cancer support pink" socks and wristbands for the players and matching hats for the coaches. We beat Portage Northern 60-8 that night and there wasn't a dry eye in the room. The love that DeWitt showed that family resonates with me today.
4) All the support that Rob and Teri Reyburn gave me over the years was awesome! Also, the parents, administration, community of DeWitt, guys like you, and my fellow coaches were awesome as well! Thank you, Jim.
You are the offensive coordinator at your high school alma mater, is that correct?
I am the offensive coordinator at Charlevoix, my home town. It started with me helping some QB's in the off-season. The head coach and I sat down and scribbled up some ideas and he asked me to coach with him. He has the same integrity, love for the kids, and passion for the game as Rob so...after talking it thru with Carol...here we go again!
Very encouraging another player points out.
Anything you will bring from your experiences at DeWitt?
Oh yeah. I learned so much coaching for 17 years with Rob and many other great coaches...of course I'm using that experience.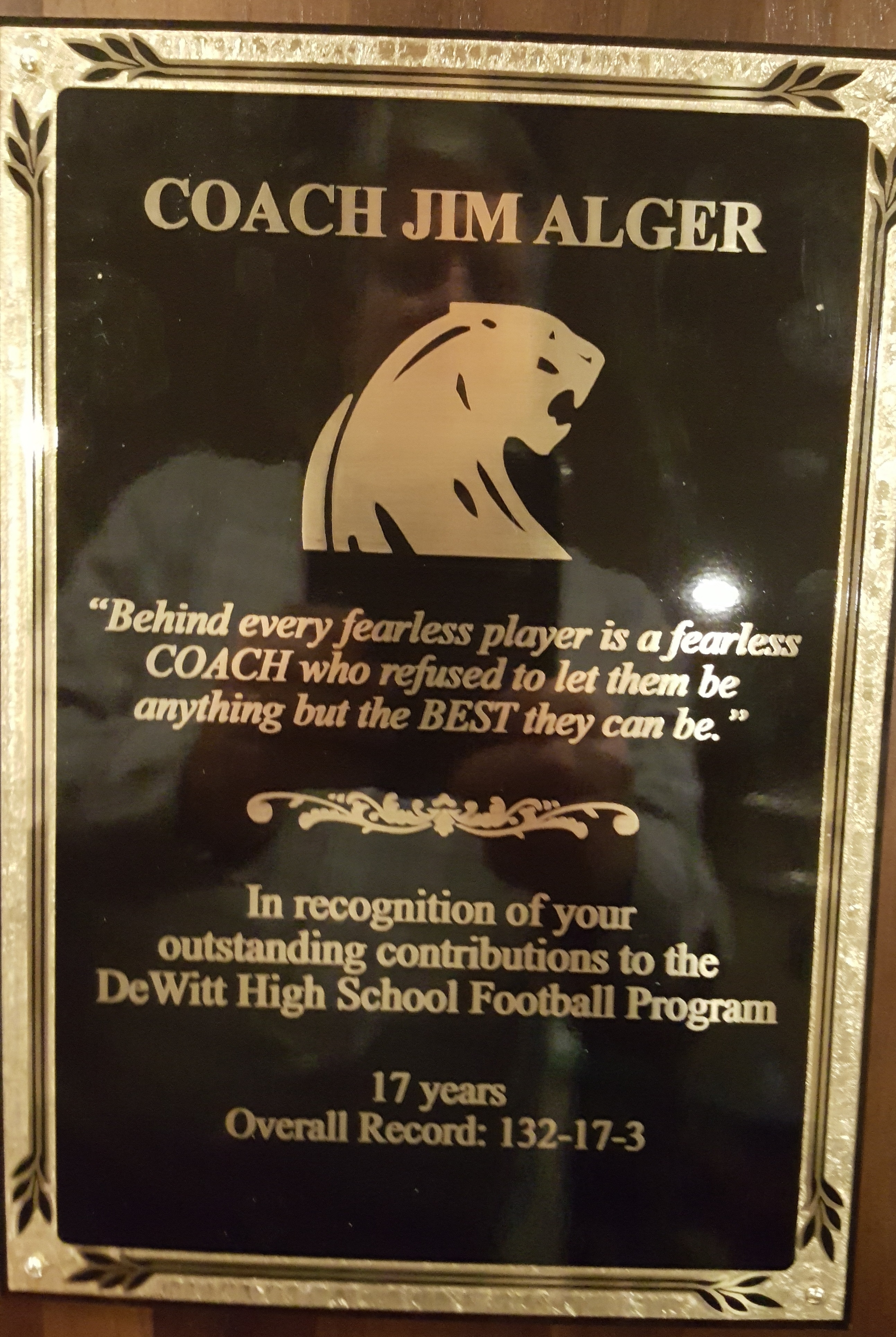 Any buddies at Charlevoix you share this experience?
Well, actually my brother is helping me from the booth. He was a great player at Ferris and coached in High School as well, until he became an administrator, in which case it was not allowed. Fun fact: He coached Dr. Andy Schorfhaar in high school. Father of 2019 Panther QB Andrew Schorfhaar.
Saturday mornings when looking at football scores, check out Charlevoix.
Panther Coach Rob Zimmerman presented Jim with this plaque at the Varsity football banquet, a small tribute that Jim can hang on the wall of his home and recall the lives he touched and helped so many through the lens of high school football. We recall our own days playing football, it is not easy playing. It a special person that can coach and be successful. As long time DeWitt Freshman Coach Way Shooks said, "It is not an easy game, football, and it is Ok if you don't like it." Given the fact that Coach Zimmerman has had the success he has had in his years at DeWitt, it is guys like Jim that coach at the lower levels and help the boys love the game, get better and make that success happen.
At the banquet, as all players who played for Jim, lined up and walked up and each gave him a big embrace... yup, that is what it is all about being a coach.
He was tough, but it was an honor to play for him, says another former player.
Tradition.