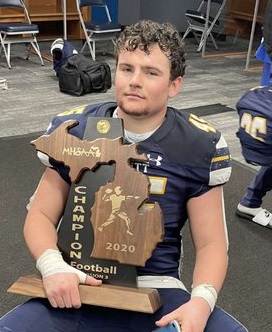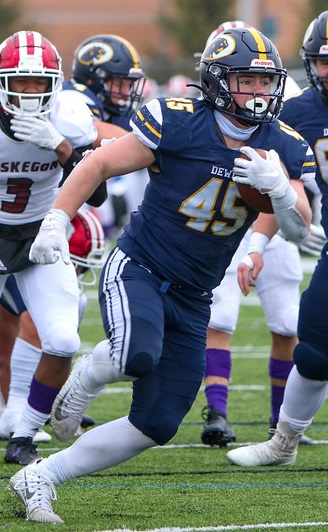 Andrew was named to the Associated Press First Team All-State as a linebacker for the 2020 season. He was also named to the Detroit Free Press First Team All-State, Detroit News First Team All-State, Lansing State Journal Class A All-Area Defensive Player of the Year and Dream Team, Michigan High School Football Coaches Association First Team as well as CAAC Red Division All-Conference linebacker. He also received State wide recogntion in 2019. Debri led a Panther defense that allowd 80 points during the eleven game abbreviated season due to the Covid-19 virus. 30 of the points came from defending champs River Rouge in the 2020 Divsion 3 State Championship Game which DeWitt won 40-30 for the first ever State Chamionship for the Panthers.

Andrew was the emotional leader of the team as well as defensive captain and middle linebacke of one of the top DeWitt defenses ever. Debri was paired with fellow All-State middle linebacker Grant Uyl. Playing against seven teams ranked in the top 10 in Division 2 or 3, the Panther defense allowed 80 points on the season and a paltry per game average of 7.3 points, 160 yards and 9 first downs. In the State Semi-Finals, the Panthers held State powerhouse Muskegon to 0 points, four first downs and 64 total yards of offense.

Debri was a three year starter for DeWitt. His senior season, Andrew had 32 solo tackles, 43 assists, one quarterback sack and a pair of interceptions. For his career, Andrew had 84 solo tackles, 131 assists and two quarterback sacks, a pair of interceptions and 15 smuks.
He was naturally a full back on a rugged multi formation offense. Whether a brusing lead blocker or running the ball with good speed he always played physical and full speed. For his career, he rushed the ball 231 times for 1,344 yards and 20 touchdowns.
"Yogi" was the perfect football player, fundamentally sound, physical, energetic, coachable, had that explosive last half step before contact... breathtaking to watch. He was breath taking watching him from the stands or sideline. And breathtaking for the opposition when you were hit by him.
Andrew will continue his football career at Hope University.
A fun player to watch, unfortunately due to limited spectators in the stands, not as many people were able to appreciate him and his team all season.
.